Cross-country skiing at The Broadmoor
Enjoy cross-country skiing at the Broadmoor! Classic and skate ski tracks are groomed Mondays, Wednesdays and Fridays each week, weather conditions permitting. You can also enjoy walking, tobogganing and snowshoeing on the course. Please keep all dogs on a leash while enjoying The Broadmoor and remember to pick up after your dog. Dogs are permitted on the multi-purpose walking loop and are not permitted on the groomed ski trails.
Trail conditions
Last updated February 2, 2023.
Some new fresh snow this week. We groomed this past Fri/Mon/Wed. There has been some wind and drifting snow which has partially filled classic tracks through this week. Friday February 3/20 will be a grooming day and shows favorable temperatures and lighter winds. Conditions will be great!
All Ski trails are in Good to Very Good condition, with a packed ski base of 13cm.
Trail
Classic Tracks
Skate lanes
Smeltzer loop
Very Good
Very Good
Clubhouse to Smeltzer

Good

 

Good

 

Leading Edge Physiotherapy loop
Very Good
Very Good
Leading Edge Physiotherapy loop (Driving range)
Very Good
Very Good
Leading Edge Physiotherapy grid
Good
Very Good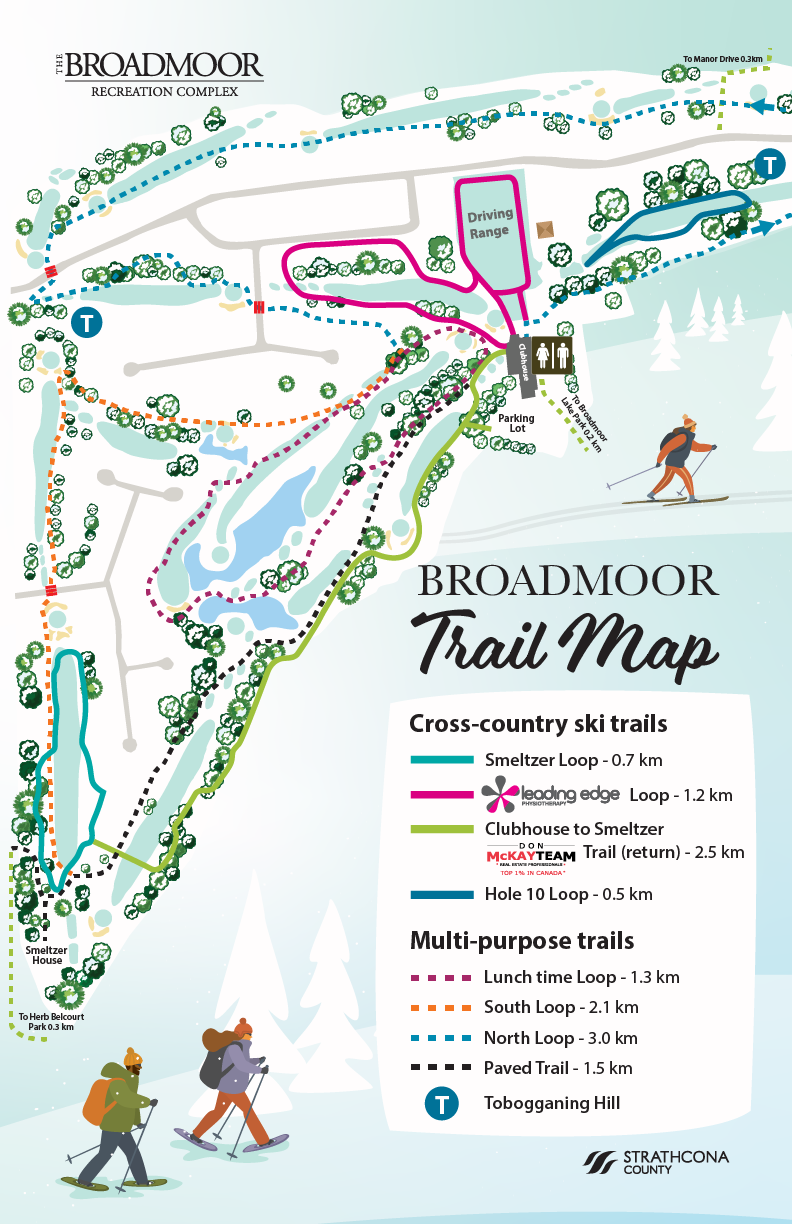 Reminders
NOTE: If not skiing, please avoid the groomed ski trails. Please also keep dogs off the groomed trails. As a reminder, if walking the multi-use trails with your dog, dogs must be on a leash and please also pick-up after them.
Washrooms are available 9 a.m. to 5 p.m. daily, located on the exterior of the Broadmoor Clubhouse. The course is open for winter activities 7 a.m. to 11 p.m. for daily use.
Check out the new trail map.
Frequently asked questions
Dogs are permitted during the winter. Please keep dogs off the groomed ski trails and keep dogs on a leash at all time. Please remember to pick up after your dog.
When is walking permitted on the golf course?
Walking and trail us is permitted during the golf off-season from November to March.
Rent our clubhouse for your next event
With beautiful views of the course, the clubhouse is the perfect spot for your next tournament, banquet or meeting.