Cross-country skiing at The Broadmoor
Enjoy cross-country skiing at the Broadmoor! Classic and skate ski tracks are groomed Mondays, Wednesdays and Fridays each week, weather conditions permitting. You can also enjoy walking, tobogganing and snowshoeing on the course. Please keep all dogs on a leash while enjoying The Broadmoor and remember to pick up after your dog. Dogs are permitted on the multi-purpose walking loop and are not permitted on the groomed ski trails.
Trail conditions
Conditions as of March 22, 2023.
The Ski Trails are in "Fair" Condition, with some ice/rough and thin sections.  With conditioning we were not able to form a proper Classic Track today therefore have left the old track in most sections and scrubbed out classic tracks in place for skate skiing in others.  Ski trails that are in close proximity to trees, have had snow bases diminished, and we have so we have moved trails away from them where possible.  Skiers should use caution in slick icy sections.
| Trail | Classic Tracks | Skate lanes |
| --- | --- | --- |
| Smeltzer loop | Fair | Fair |
| Clubhouse to Smeltzer | Fair | Fair |
| Leading Edge Physiotherapy loop* | Fair | Fair |
| Leading Edge Physiotherapy loop (Driving range)* | CLOSED | CLOSED |
 **Elm and Maple tree pruning needs to be finished on the Driving range left side by March 30.  (Bylaw with trees that "Bleed") Therefore Ski Trails on holes 18, and Driving range (Leading Edge loop) are now closed for the season. Trails on #10 Hole are now closed as we have cleared snow through one section preparing for the following week of tree pruning. With the warm temperatures in the next couple days, the trails from Clubhouse to Smeltzer and Smeltzer loop will be officially closed (With signage) on Friday end of day. The Broadmoor Ski Trail Grooming team want to thank you for coming out to ski and looking forward to another great season and seeing you all next winter. 
** It should also be noted on the website that all Golf Course "Walking" Trails will be officially closed at end of day Friday, and signs posted.   Glazed over ice sections are a plenty on these trails, and caution should be taken while walking.   Thanks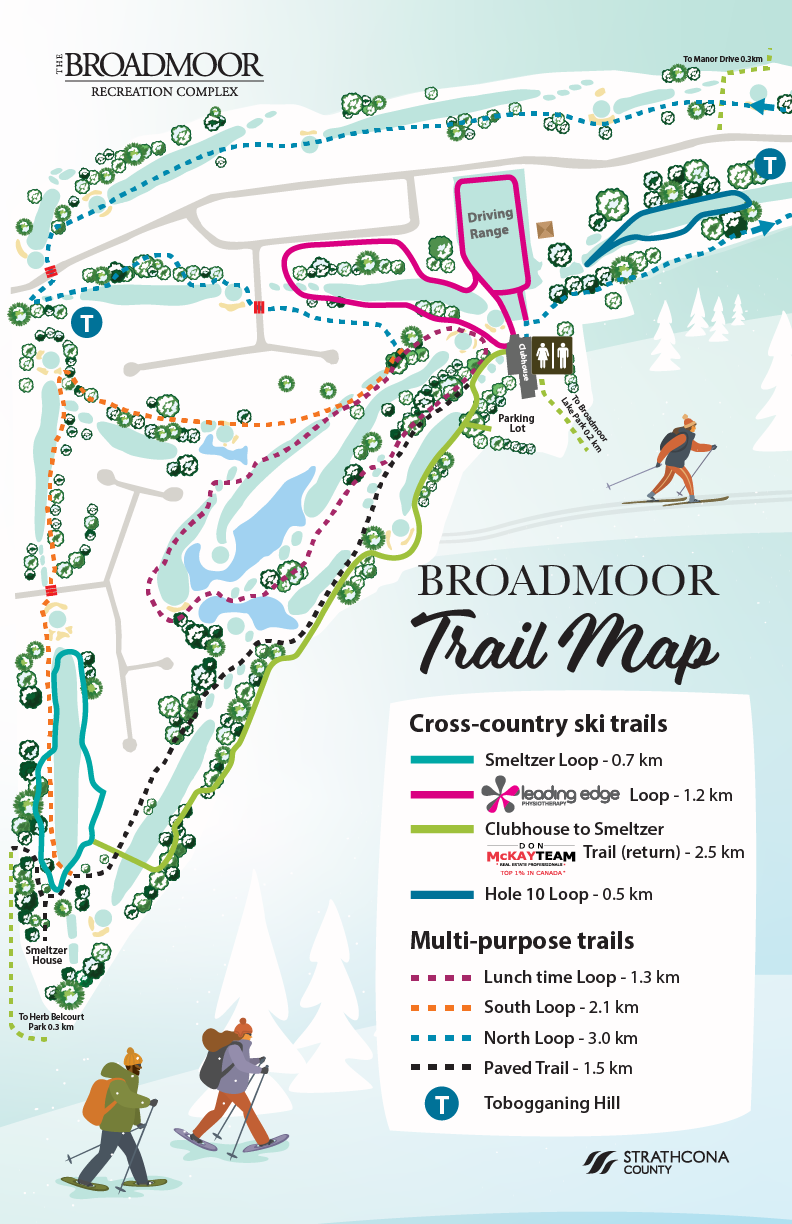 Reminders
NOTE: If not skiing, please avoid the groomed ski trails. Please also keep dogs off the groomed trails. As a reminder, if walking the multi-use trails with your dog, dogs must be on a leash and please also pick-up after them.
Washrooms are available 9 a.m. to 5 p.m. daily, located on the exterior of the Broadmoor Clubhouse. The course is open for winter activities 7 a.m. to 11 p.m. for daily use.
Check out the new trail map.
Frequently asked questions
Dogs are permitted during the winter. Please keep dogs off the groomed ski trails and keep dogs on a leash at all time. Please remember to pick up after your dog.
When is walking permitted on the golf course?
Walking and trail us is permitted during the golf off-season from November to March.
Rent our clubhouse for your next event
With beautiful views of the course, the clubhouse is the perfect spot for your next tournament, banquet or meeting.